How U.S. Citizens Can Support the Immigrant Community During Trump's Attack?
---
Join the Here To Stay Network.
---
If you see ICE checkpoints, you could ask why are they stopping, searching vehicles and where are they taking individuals who are being detained?

If ICE is asking for ID on a train, bus, or other spaces, refuse to show your ID – ask questions about why they are there in the first place and put yourself between ICE agents and undocumented individuals

If ICE agents are seen posted outside of homes inquiry who they are searching for and why?
Ask for a warrant – remind people of their rights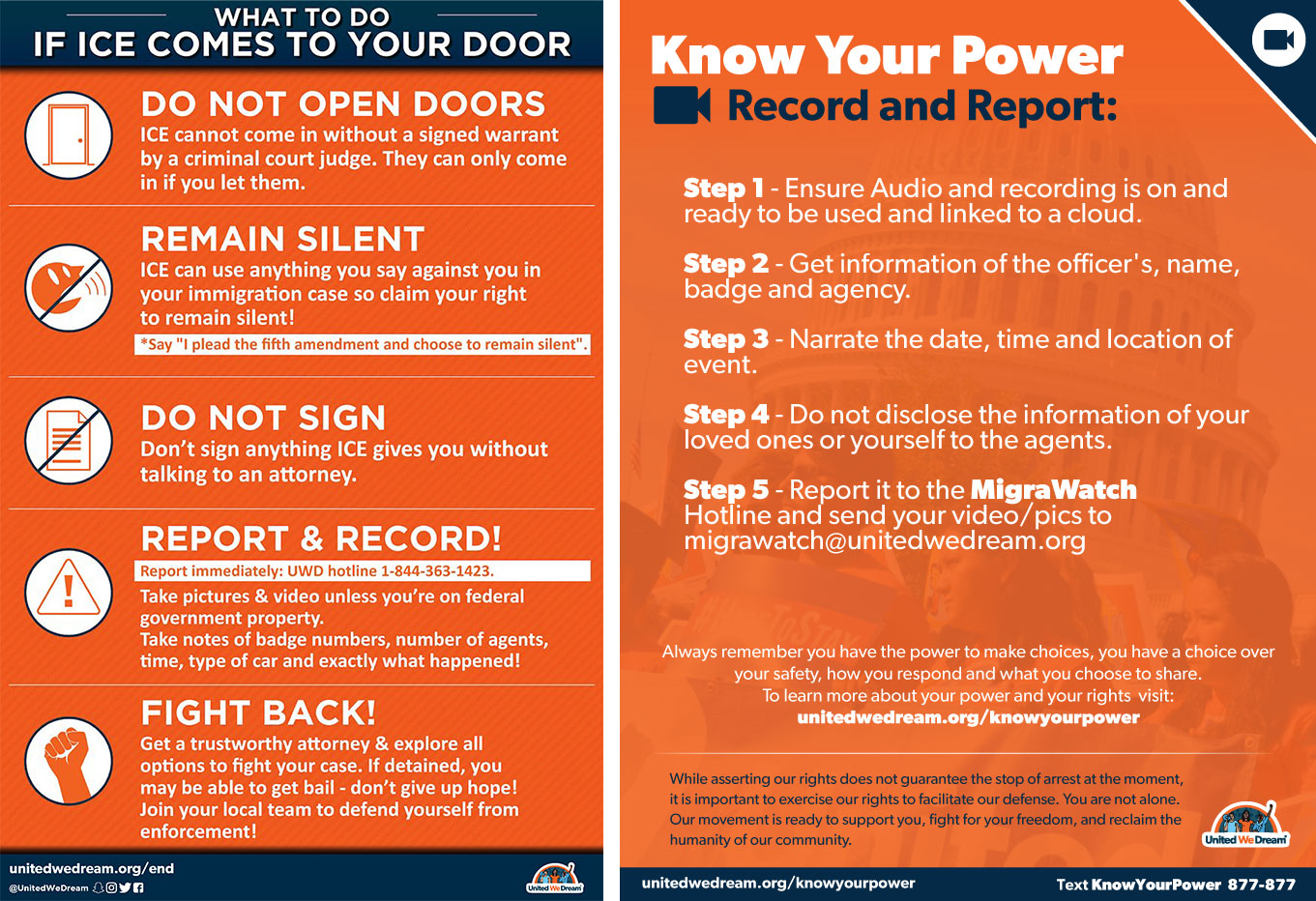 ---
If you see someone being detained, ask why is the person being detained? Ask where will they be transferred to?
Follow guidelines on recording the interaction.
Record badge numbers, license plates, and everything that happened in the incident by writing it down and video taping. As much as possible, try to learn and document what role ICE officers and local law enforcement played during the activity.
Identify folks who would be interested in risking arrest to support stopping the raid.
You can create a group with a plan to respond to raids, assign roles and examine the potential strategy on how to stop the raid i.e – AZ group blocks roadway to stop ICE vehicles from taking folks AZ folks stop a van.
Know your rights as a U.S. Citizen- you have a right to be present, observing, bearing witness, praying, photographing and videotaping (though your right to videotape a law enforcement action may vary by state).
If ICE warns you and asks you to step back while videoing/photographing, it is best to follow directions, as they may confiscate your camera.
Assign someone to de-escalate the situation if you are able to gain space while activity is happening
Supporting the community isn't just about trying to stop a raid, it's also about mobilizing and organizing people to help with the fall out of the raid, when families are being separated
You can start a list of local pro-bono immigration lawyers that are willing and ready to provide services for people being detained
Be ready to show up and do a vigil at the ICE field office, detention center or jail where people are being held to advocate for those immigrants to be released on bail
Be prepared to launch a call in action to call and demand that ICE Field office releases folks who were detained
Join the Here To Stay Network and pledge to physically show up for immigrants in my immigrant community when they need me.
The #HereToStay Network is a group of people ready to fight for immigrants at risk of deportation. When Trump agents show up to raid immigrants' homes and workplaces, we'll need you to show up.
Join the Here To Stay Network
---